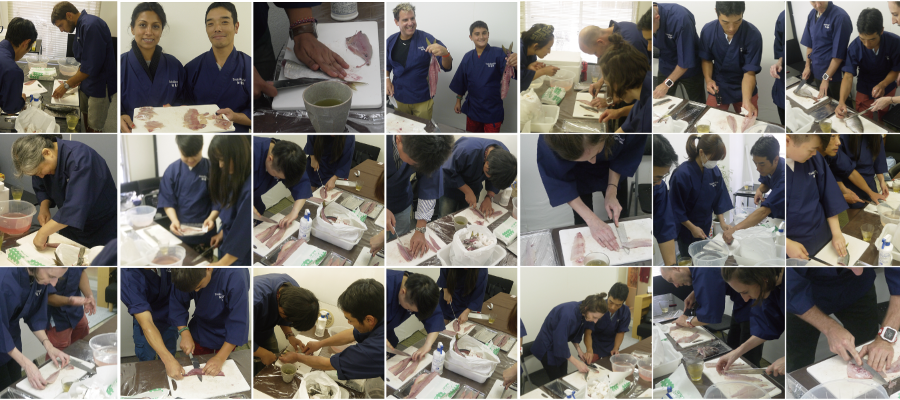 Professional Tsukiji Lessons!
The way you cut a fish can change its taste


The fifth generation of TsukuKameShin will teach you the professional way to cut fish.
You can learn slowly and carefully up close and personal with the instructor.
Types of fish used:
Two Aji(horse mackerel)

one medium size seasonal fish


※If you want to cut some specific type of fish please let us know. The fish chosen are usually done by whats in season.





See how a professional who handles fish every morning handles cutting.



You will also learn how to judge good fish in a professional way.





After cuting the fish, you can take it with you to eat!



You can learn how to cut fish and get today's dinner all in one class.

 
Overview
Fee
9,800 yen

Bring your friends!
Time

Every Tuesday and Friday - 4

:00PM to 5:00PM

(We are not available for the new reservation.(Sep 2019) 

We will inform when we start accept reservations again.)
Max
4 people
Fish Types
Two Aji (horse mackerel), one medium size season of fish (鯛 Tai_sea bream.)
Bonus
Bring your food home! Keep the fish you cut in class to eat.
Location
ENT Co.,ltd

45 Ichigaya-Yanagichō Shinjuku-ku, Ichigaya KK Tower Tōkyō-to 162-0061

https://goo.gl/maps/nfubDjAayPT2
Needed materials
None. Utensils and apron etc will be provided.
Please reserve at least 2 days in advance.



※Regular Holiday announcement

We will not have classes if the class date falls on the last day of the month and 1st, 15th. (Example: July 31 (Tue) and Aug-31(Fri) classes will be closed)

※Notes: This is an office space.

There will be a partition separating the office from the class space but, please do not worry too much.

※Extra fee of ¥1,000 for lesson with english translation.

Office staff also look forward to meeting everyone!



※NO refund on cancellations 2 days and fewer before booking date

.
Reservation Form: